CASA ROSITA is a 7.5 hectare development of single detached residential homes project strategically located in the vast 20-hectare ARCENAS ESTATE, along Duterte Street, Banawa, Cebu City. It's another quality homes development by Handumanan Devt. Corp. Of the ARCENAS GROUP, the same Developers who developed the posh PASEO SAN RAMON. Casa Rosita is nicely nestled on a rolling terrain that gives you a good view of the hills and the sea and a portion of the city.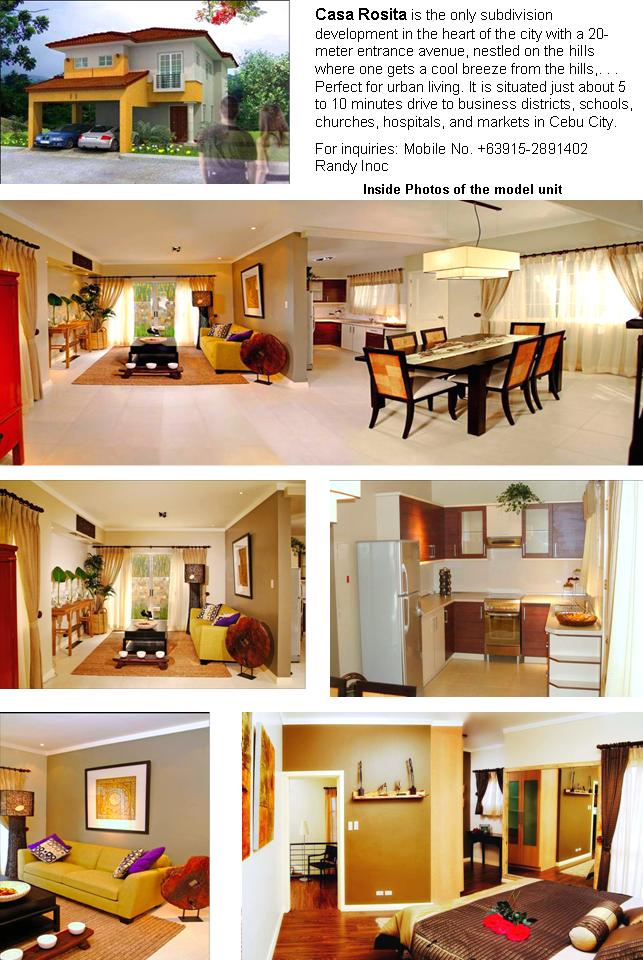 Each of our single detached houses have:

* 2-car garage,

* Spacious living and dining rooms;

* Kitchen with modular cabinets made by Mobelhaus (German-made);

* 3 Bedrooms (a master's bedroom with its own toilet and bath and walk-in closet; the other 2 bedrooms share a toilet and bath);

* A maid's room with its own toilet and bath;

* A covered service area for your washer/dryer and dirty kitchen

We use quality high-grade construction and finishing materials. (please refer to attached floor plan and perspective of the house). We use high quality construction and finishing materials. Each of the houses have provisions for two (2) telephone lines, and it's cable-ready.
BUILDING SPECIFICATIONS:

* Long span pre-painted galvanized roof sheets
* French inspired steel framed windows
* Standard painted ceiling
* Painted and sturdy room partitions
* Ceramic tiled flooring for toilet and baths
* Elegant and functional bathroom fixtures
* Standard residential plumbing & electrical system
* Kitchen counter with sink & built-in cabinets
* Deluxe ceramic floor tiles - living, dining & kitchen
* Polished wooden railings & stairs
* Sanded and stained wood floor finish (2nd floor)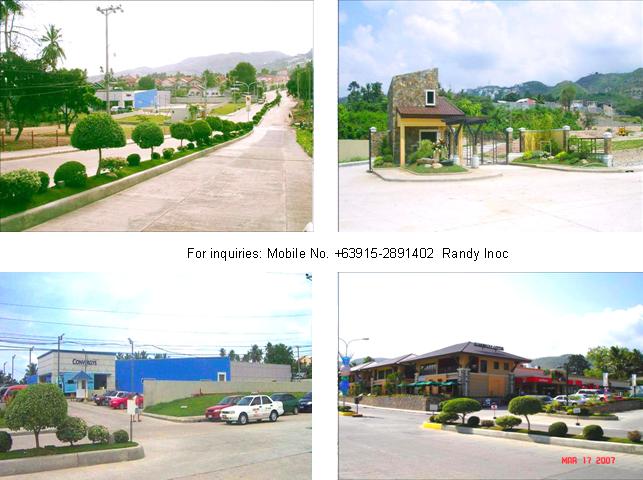 Amenities:

* Landscaped Entrance
* Elegant Guardhouse w/tower
* Park & Playground
* Concrete roads with signages
* Cemented side walk w/ street lights
* Cemented curbs & gutters
* Underground drainage system
* 10 meters wide tree-line.access road
* Electrical & water supply
* Perimeter fence
* Tennis court
* Basketball court
* Jogging trails surround w/.benches
* Multipurpose hall w/ admin.office
* Telephone & Cable lines
The whole Arcenas Estate was master planned to be a complete community with posh residences, a commercial district, and an I.T. Zone (with Convergys as its first call center in the estate). Part of this master plan is a COMMERCIAL AREA (PASEO CENTER). RUSTANS, one of the best stores/supermarkets in the Philippines, our anchor in the commercial area, recently opened its doors to serve the buying public. Towards the end of the year, we shall open the rest of the commercial establishments in time for the holiday season (consisting of Starbucks, bookstore, specialty restaurants, spa, salon, and other specialty shops). Casa Rosita will then be the ONLY residential homes project with a TOWN CENTER/COMMERCIAL AREA. With the development of the commercial area, investors and homeowners of Casa Rosita will surely get a high appreciation and a high yield of return for their investment.
All our houses are brand new as we only start construction after the Buyer pays the full 40% required downpayment. Construction period is from 10 to 12 months (including allowance for rainy days).

Price range of house and lot packages in Casa Rosita is from P7,726,20 to P9,117,920 depending on the size of the Lot. Lot sizes range from 160 sq.m. to 199 sq.m.. Floor areas of the houses are from 179 to 218 square meters.
Required downpayment is 40% of the total contract price. The 60% balance, interest-free, can be paid through our In-house financing in equal monthly payments covered with post dated checks within the construction period of 8 to 10 months (includes allowance for rainy days).

We also have a 2-year interest-free payment scheme if the buyer is not really in a rush to move in. This 2-year interest-free scheme means that the Buyer can only move in after the full and last monthly payment on the 24th month.

Bank financing is also available (1 to 20 years to pay). - Metrobank, RCBC, I-Bank, PS Bank, Equitable PCI, etc....

anim-email-world.gif