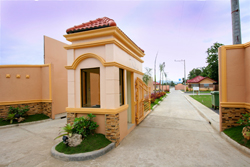 Real Estate Cebu Philippine, Villa Solana is developed by Juanito King & Sons, Inc. (JKSI) the consolidation of the real estate holdings of the King family, headed by the company founder, Mr. Juanito I. King. Its humble beginnings date back to the late 1950's, when Mr. King slowly started to acquire real estate through earnings from profitable business ventures.



Hard work, perseverance and prudent investments have made the company what it is today. Over the years, Mr. King realized that his accumulated property holdings were a profit center all on their own. Thus in January 1979, he set up a real estate company with his sons, Robin, Ricarido Delfin, Luis and Mario, and himself as incorporators and shareholders. Ming's Food Products, Inc.,



One of the existing companies then, was used in the incorporation records. The company was later renamed Juanito King & Sons, Inc. and the Articles of Incorporation were amended to adopt the real estate nature of the business. The renamed company originally had an authorized capital stock of P1 million. In December 1995, the authorized capital was increased to P100 million, to reflect the asset value of the company.



The holdings of JKSI in Real Estate Cebu Philippine continue to grow and include commercial lots, industrial lots, commercial buildings, condominium units and residential land. Currently, JKSI is undertaking a housing project, which involves the development of a 2.3-hectare property in Talisay City, Cebu. Led by Juanito King's granddaughter, May King, the housing project targets to have the following beneficiaries of the planned 169 housing units: staff and employees of JK's sister and subsidiary companies (King Quality Foods, Inc., Nito's International Ventures, Inc., Nito's Auto Supply, SkyGo Marketing Corp.), as well as other middle-income families.



Mr. Juanito I. King, founder, Chairman and President, envisions JKSI to contribute significantly to the real estate industry through more development projects in the future.