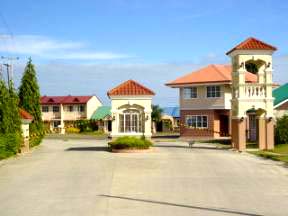 The same quality homes that showcase the best amenities and housing facilities are righMactan Island Real Estate Properties

An island paradise that boasts of an airport, casinos, the best beach resorts, and even one of the most progressive export zones in the country has been found one more essential: a housing opportunity worth of the varied lifestyles, values and vibrant moods of its hardworking people. The clamor has to be heeded. Villa del Rio has to be in Mactan.
t where you want them to be.

At Villa del Rio Mactan, the perfect getaway means simply going home!
 

HERMOSO







3 bedrooms, 2 toilet & baths, Lot area: 180 square meters, Floor area: 81 square meters, Price: P2,700,000

 
 

PALACIOS GRANDE


2 storey, single detached, 3 bedrooms, 2 toilet & baths. Lot area: 120 square meters, Floor area: 84 square meters, Price: P2,400,000

 
FEATURES & AMENITIES:

* Landscaped Entrance
* Elegant Guardhouse with tower
* Park & Playground
* Concrete roads with signages
* Cemented side walk with street lights
FINANCING SCHEME:

Reservation fee: Php 20,000
Cash discount:: 5%
Terms: 30% Down payment

70% Balance maximum of 5 years at 16% interest/annum
Discount on full Down payment: 2.5%
Also available: Pag-ibig or Bank Financing
Please contact us for a more affordable down payment scheme
PAYMENT TERMS

Reservation: P20,000 (non-refundable good for one month)

Down Payment: 30% can be paid in 18 months at 16% interest per annum, with 2.5% discount if full down payment

Terms: Balance of 70% payable in 5 years through in-house financing or more than 5 years through PAG-IBIG or bank financing

Discount for Cash: 5% of the contract price